PleasurableThings (DILF_Icon)
PT's take on the Jalisco Daisy sage-infused cocktail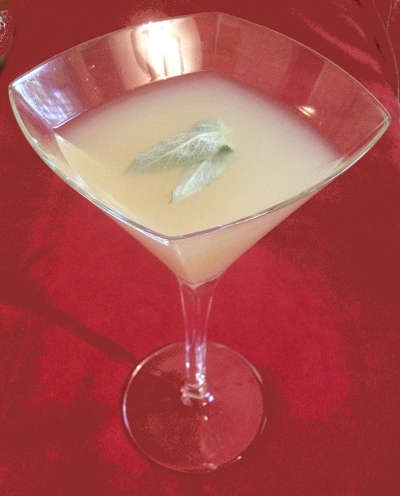 This cocktail is a lovely apertif: a perfect mix of sweet, savoury and very slightly bitter. The Jalisco Daisy was apparently first invented by a bartender in Chicago. Here's our take on it, a bit simpler than the original recipe (so easier to make, but perhaps less complex in flavour).
-4oz blanco tequila (we used Patron white)
-3oz sage simple syrup*
-1oz fresh lime juice
-Sage leaves for garnish
Mix ingredients together, stir and serve in martini glasses. I think this drink shouldn't be too cold, so I didn't use ice. The tequila was room temperature but the syrup and lime juice were from the fridge, so the drink is cool but not too cold.
*for the Sage simple syrup: Stir together 1/2 cup white sugar and 1/2 cup water in a small saucepan over medium heat. Bring to a light boil, and cook, stirring occasionally, 3 minutes or until sugar is dissolved. Remove from heat, add 6 sage leaves, and let stand 5 minutes. Remove and discard leaves.