PleasurableThings (PT Eds.)
The Feminist Porn Awards 2012: Steaming up the Church
In their seventh year, Good For Her's Feminist Porn Awards celebrate the work of artists who make some groundbreaking and damn sexy films. They also welcome in a wide audience of progressive-minded sex lovers to related seminars, film screenings and parties.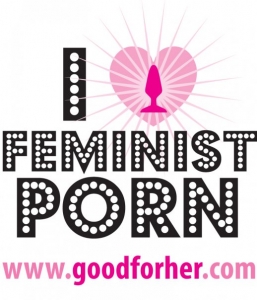 I went to the gala awards show, hot feminist date in tow, and had a fabulous night. The Berkeley Church was a good venue choice, if a bit small for the number of people in attendance. The lighting made the historic space look as though it was glowing from within, with a pinky-peachy heat. Not a bad mood-setter for the hot film scenes and live performances happening on stage.
While the importance of the FPAs lies in recognition of the producers, directors and performers, as an audience member the best thing about the gala event was the atmosphere. The very sexy excitement in the room was surely because it was a gathering of people who all take great delight in hot female-empowered film already, but I also think that the energy in the room was greater than the sum of the individual parts. The sexiness was fecund.
The entire event was extremely well-produced, with an emphasis on lighthearted but very sexy fun. Even the awards categories had creative, sensual names, such as "most deliciously diverse cast", and "most arousing adaptation". Film clips from the award winners were very well chosen, conveying a great deal of the hotness and artistry of the film in just a couple of minutes. Stage performances were bold, energetic, and inventive. I was particularly impressed with the surprise performance by Buck Angel, doing one of the hottest strip teases ever.
Host Elvira Kurt was funny and engaging. She set the evening off right when she asked everyone in the audience to acknowledge the church setting by turning to strangers next to them and saying, "May the porn be with you." The other presenters were equally well-chosen and enjoyable. The only tiny criticism I have is that it was almost too much of a good thing: with so many great performances and presentations going on, the event stretched on well past midnight, at a time when the audience, though having a fantastic time, might have liked to move on to the dance party portion of the night.
I left with a desire to not only watch all of the winning films, but to share the excitement about this art with others. Beyond passing on recommendations about well-produced films, spreading the word about these films also helps to normalize the idea of female-focused porn, and female-empowering sex in real life!