PleasurableThings (PT Eds.)
Fishbar
As lovers of all fish both raw and cooked, we were excited to check out the seafood restaurant Fishbar, on Ossington. I was able to get a reservation for a Saturday night by calling earlier in the week. It might be possible to get a table without a reservation during the week, but best to book ahead as this place is quite packed, for good reason.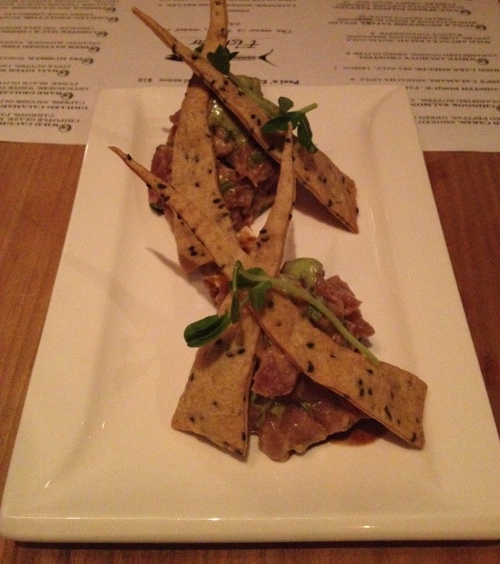 I like a restaurant that's effortlessly welcoming and comfortable, while saving all the fancy-up for the food. Fishbar is spot on. It's decorated in a mix of wood and metal, and is long and narrow, which seems to work well for the staff zipping up and down the one aisle. Having wine chilling buckets attached to the wall behind the tables is a great idea as well: it saves space on the table, and provides convenient access for servers and diners.
We started with a selection of the evening's featured oysters, one variety from B.C., one from New Brunswick and one from Rhode Island. They came with a selection of sauces, but we enjoyed the oysters best on their own. Our favourites were the Rhode Island ones, I believe they were Beach Blonds, so plump and savoury.
We also tried the fried lake smelts ($7). They came in a cute little stainless steel bucket, and were a very nice salty snack. The fish was meatier than I'd expected (I'd pictured something more like a small anchovy), and the breading was very light.
Next the tuna tartare, with cilantro emulsion, tamari and sesame cracker ($14). I found it scrumptious but my date felt it lacked complexity and might have been boosted by another flavour such as a hint of hot spice.
Absolute standout of the night was the Baja diver scallops with apple butter and chorizo ($16). The chorizo was finely ground into the sauce, perfectly imparting its salty flavour without overpowering the scallops.
Service was how we like it: there at the moment you need it, without making you feel like you're being watched. I was particularly impressed with the arrival of the scallops: they were still very warm from being seared what must have been seconds before. Prompt plating is so important with raw and semi-cooked seafood. You wouldn't want something like the delicate scallops to be languishing under a heat lamp.
We'll return to Fishbar again soon. In fact, it's difficult to summon the enthusiasm to go to any other restaurant right now, with the delicious memories of this place so fresh in our minds.