PleasurableThings (PT Eds.)
District Sushi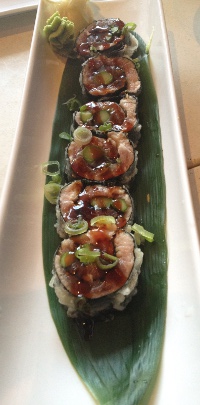 As their site points out, District really is the only sushi restaurant in the Riverside/Leslieville neighbourhood. They've also done a really nice take on the genre; their interpretation has a well-edited menu of Japanese selections and a cool nightlife-friendly feeling.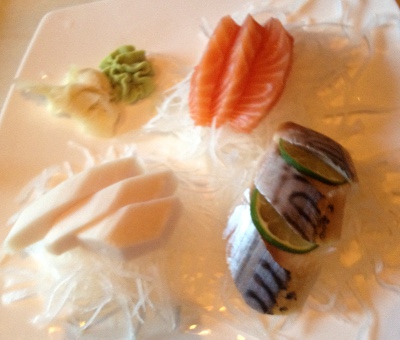 The look of the place is classic lounge: padded black leather banquettes, black laquered ceiling tiles, and some brightness brought in with a chandelier, long white marble bar, and red throw pillows. It's unpretentious enough to be comfortable, although clean enough that it's perhaps not the best place to take small food-flinging children (yet the staff were very welcoming of our food-flinging baby!).
We started with some spiced edamame ($6). The chili spice on the outside of the pods was a nice twist over the usual, if a little messy on the table. We also had the seared tuna tartare ($12), and while it was tasty, I felt the searing and the sauce on top did not add, and perhaps detracted, from the tuna's natural flavour. The wakame salad ($8) was nicely presented, but lacking the sesame taste this dish sometimes has.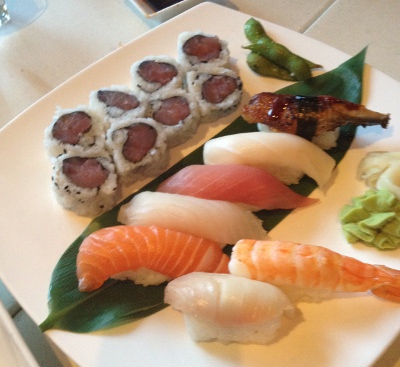 With our server's helpful assistance we selected three types of sashimi: butterfish, salmon and mackerel. The standout was the mackerel, a slightly less common sashimi offering and with a very distinct flavour. The salmon was average, and the butterfish, while sweet and dense, was still a little frozen in the core.
We also ordered an assorted sushi combo ($17), which seemed to be made with good quality, nicely cut, fish. The barbequed eel was particularly scrumtious. And a black dragon roll, also a lovely use of eel and not over-dressed (I dislike the plumped-up, frilly and mayonaise-drenched rolls that some places do).
We'll return for dinner here, but would especially like to come back later in the night sometime to partake of the late-night sampling menu and the pitchers of sake cocktails!