PleasurableThings (DILF_Icon)
Grilled Watermelon Salad
View Original Article
Watermelon takes on a nice char on the grill. Don't fiddle with the pieces; just flip them when it's time.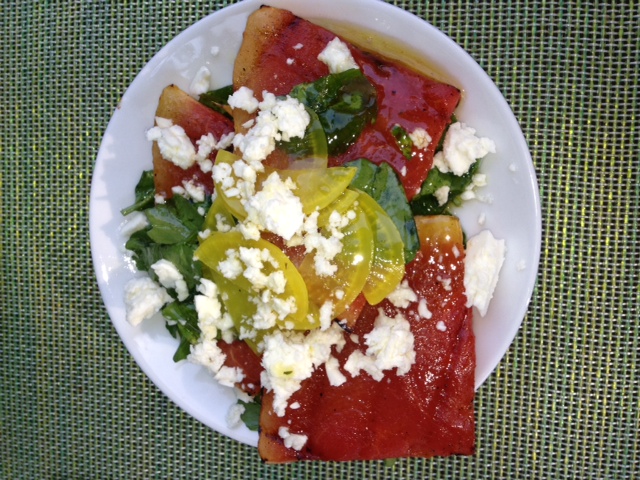 Ingredients
1 large fresh basil sprig

1/3 cup plus 1/2 cup extra-virgin olive oil plus more for brushing

3 1/2"-thick slices see

dless watermelon, rind removed, eac

h cut into 6 wedges for a total of 18 w

edges

1/4 cup fresh lime juice

1 tablespoon honey

Kosher salt and freshly ground black pepper

3/4 pound pea sprouts or watercress (tough stems removed; about 12 cups)

36 slices Pickled Radishes , cut into eighths

1/2 cup (4 ounces) queso fresco, crumbled

1/4 cup (1 ounce) shelled pumpkin seeds (pepitas), toasted
Ingredient Info:Queso fresco, also known as queso blanco, is sold at better supermarkets and at Latin markets. If unavailable, mild feta can be substituted.
Preparation
Heat basil and 1/3 cup oil in a small skillet over medium heat until basil begins to bubble. Simmer for 3 minutes. Remove pan from heat. Let cool for 1 hour. Discard basil; set aside basil oil.
Build a medium fire in a charcoal grill, or heat a gas grill to medium. Brush grill rack with oil. Grill watermelon until lightly charred, about 2 minutes per side. Set aside.
Whisk remaining 1/2 cup oil, lime juice, and honey in a large bowl to blend. Season to taste with salt and pepper. Add pea sprouts and toss to coat.
Place 3 pieces of grilled watermelon on each plate. Top with pea sprouts and drizzle basil oil over. Garnish with Pickled Radishes, queso fresco, and pumpkin seeds.