PleasurableThings (PT Eds.)
Chestnut-Pear Bisque with Blue Cheese Toasts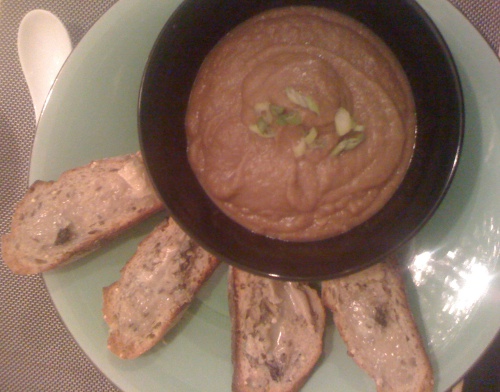 This is a wonderfully rich-flavoured yet light autumn meal. It would also make a nice first course, perhaps to accompany a holiday dinner. The bisque recipe is adapted from a similar recipe on The Bitten Word site.
To make the Bisque
1 tablespoon olive oil
1 medium onion, diced
1 celery stalk, diced
2 tablespoons thyme, chopped, or 2 teaspoons dried thyme
1 teaspoon coriander seed
1/2 teaspoon white pepper
14oz. of pre-packaged chestnuts
2 medium pears, peeled, cored and diced
1.5 cups chicken stock
In a heavy soup pot with olive oil, cook the onions and celery until tender, about 5 minutes. Add thyme, coriander and white pepper. Add pears and sauté, stirring, until they begin to soften, about 5 more minutes. Add chestnuts and continue sautéing until they begin to break down, about 8 more minutes. Add stock and increase to high heat until boiling. Reduce heat to low and simmer, covered, 30 minutes. Using an immersion blender or an upright blender, puree soup until smooth. Serve, adding thyme or some finely-chopped green onions as garnish.
To make the toasts
Slice a multigrain baguette into diagonal slices and lay them out on a baking tray. Toast under the broiler. Remove from oven, turn them over, spread your favourite blue cheese on top--we used a medium-strong-flavoured blue goat cheese. Place the tray back under the broiler until the cheese is runny.
Serve with a Sauvignon Blanc.