PleasurableThings (PT Eds.)
Best Brussels Yet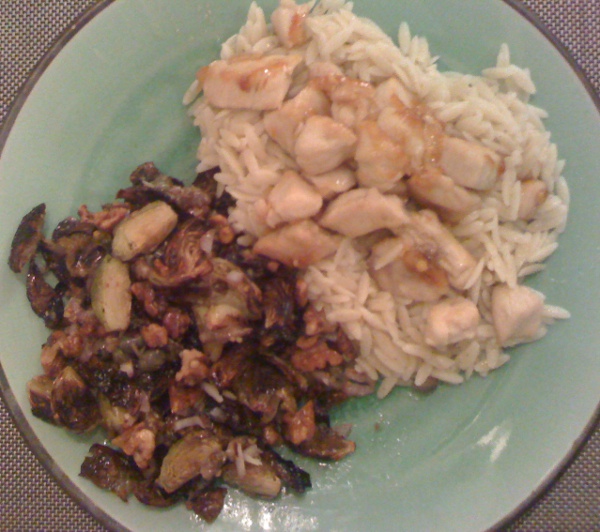 The Brussels sprouts are really the star feature of this meal, so we'll focus on this recipe first. This is adapted from a recipe found on the Bitten Word site.
Ingredients
3 cups brussels sprouts, quartered
3/4 cup extra-virgin olive oil
Salt and freshly ground pepper
1/2 cup walnuts, chopped
1/4 cup red wine vinegar
1 tablespoon grainy mustard
2 tablespoons honey
2 tablespoons capers, diced
2 teaspoons minced garlic
1 shallot, minced
4 large anchovies, minced
-Preheat the oven to 425 degrees.
-In a large bowl, toss the brussels sprouts with 1/4 cup of the olive oil and season with salt and pepper.
-Spread the brussels sprouts on a baking sheets and roast for about 35 minutes, stirring once or twice, until tender and charred in spots.
-Spread the walnuts in a pie plate and toast for about 8 minutes, until golden. You can also do this step first, or simultaneously if you have a toaster oven.
-In the large bowl, whisk the vinegar with the mustard and honey. Whisk in the remaining 1/2 cup of oil until emulsified. Add the capers, garlic, shallots and anchovies; season with salt and pepper. Add the brussels sprouts and walnuts and toss well.
For the orzo:
-boil up your desired amount of orzo pasta (approximately 1 cup dry orzo to accompany the brussel dish, 8 minutes cooking time).
-stir in about 1 tablespoon of lemon juice and 2 tablespoons of butter.
-sprinkle in some fresh parsley, or alternatively 1 teaspoon dried dill and 1 teaspoon dried thyme.
-stir in 1-2 tablespoons of parmesean flakes (optional)
For the Chicken:
-chop 2 large skinless boneless chicken breasts into 2-inch chunks
-fry in olive oil in a skillet until cooked on th outside
-add in 1/4 cup of marmalade, splash of orange juice and 1 teaspoon ginger (we used the bottled kind)
-continue cooking on medium heat until the chicken is done throughout and the orange sauce is forming a bit of a glaze
Serve the chicken on top of the orzo, with the Brussels sprouts on the side