PleasurableThings (PT Eds.)
Kale Caesar! with Steak and Spiced Eggplant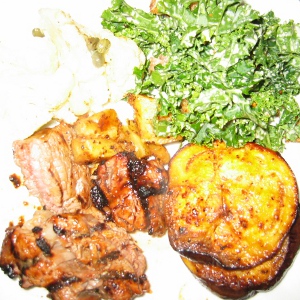 It's no mistake that we've listed the salad first in this meal title: it's definitely the star attraction, even up against the mouth-watering tenderloin steak.
PT's Kale Caesar
Ingredients
3 tbsp fresh lemon juice
3 anchovy fillets
1 tbsp grainy Dijon mustard
6 tbsp extra-virgin olive oil
1 solid glug Worcestershire Sauce
1 egg
1/2 cup finely grated Parmesan
Kosher salt and freshly ground black pepper
14 ounces Tuscan kale or other kale, center stalks removed, thinly sliced crosswise (about 8 cups)
1/2 lb. strip bacon
2 slices grainy/sesame crust bread, cut into half-inch squares
Preparation
Combine the first 6 ingredients in a blender; purée until smooth.
Chop the bacon into small pieces, fry in a frying pan until cooked. Drain on paper towels. Add the bread bits and fry them into croutons.
Meanwhile, lightly steam the kale, about five minutes, until softened but not limp.
Toss kale, bacon, croutons, and dressing in a large bowl to coat. Season to taste with salt and pepper. Top with Parmesan.
Adapted from a recipe on Epicurious.
Spiced Eggplant
Slice an eggplant into half-inch circles. Marinate in Montreal steak spice (by Clubhouse) for 15-30 minutes. Pan-fry until crispy.
Steak
Using a thick (one to one and a quarter inches) tenderloin steak: Marinate in Montreal steak spice for 15-30 minutes. Place on 500-degree barbeque grill, grill for five minutes on each side, for medium-rare.