PleasurableThings (PT Eds.)
Fettucine with Prosciutto and Citrus, Thai Cabbage Sauté
Fettucine with Prosciutto and Citrus
The original version of this recipe called for heavy whipping cream, but we've substituted with greek yoghurt. If you can't find lemon-flavoured greek youghurt, use plain greek youghurt plus the zest and juice of one lemon and 2 tsp. of sugar. Also keep in mind the fresh pasta will keep cooking once in its sauce, so be ready to serve the dish about 1 minute after co-mingling the pasta and sauce. Do not cover and let it rest while cooking other dishes as the pasta will overcook and congeal together into a solid mass.
Ingredients
Kosher salt
2 350g packs fresh fettuccine
4 Tbsp. unsalted butter
125g thinly sliced prosciutto, torn into 1" pieces
Zest and juice of 1 orange
1 cup lemon-flavoured greek yoghurt
Freshly ground black pepper
1/2 cup finely grated Parmesan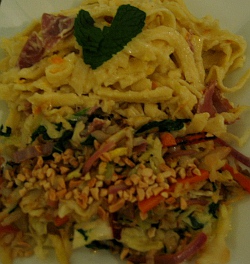 Preparation

Bring a large pot of water to a boil. Add pasta and cook, stirring occasionally, until 1 minute before al dente, about 2 minutes for fresh pasta. Drain, reserving 1/4 cup pasta water.
Meanwhile, melt butter in a large heavy nonstick skillet over medium-high heat. Add prosciutto; sauté until browned, about 3 minutes.
Add reserved pasta water, orange juice, half of zest, and yoghurt; bring to a boil. Add pasta; cook, stirring, until sauce coats pasta and pasta is al dente, about 1 minute. Season with salt and pepper. Stir in cheese and divide among warm bowls. Garnish with remaining zest.
Thai Cabbage Sauté (modified from Epicurious)
2 Tbsp. fresh lemon juice
2 Tsp. sugar
1 Tsp. salt
3 cups finely shredded cabbage
1/2 small red onion, sliced thin (about 1/3 cup)
1/3 cup grated carrot
2 Tbsp. finely chopped fresh mint leaves
2 Tbsp. chopped fresh coriander
2 Tbsp. vegetable oil
1/2 cup chopped peanuts, toasted