PleasurableThings (PT Eds.)
Spicy Seafood and Sausage Pasta
This dish has a wonderful warmth to it. The seafood and the meat sausage work together incredibly well; the seafood especially picks up the flavours of the sauce.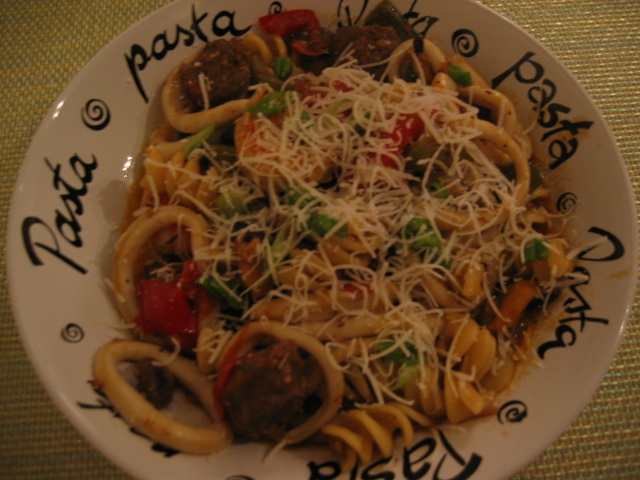 Ingredients
1/4 cup salted butter
1 350g package hot italian sausage. sliced into rounds
4 cups sliced fresh cremini mushrooms (about 300g)
2 jalapeno peppers
2 Tbsp. Cajun seafood seasoning (we used Clubhouse brand)
1 pound mussels, scrubbed and debearded
3-4 Calamari tubes, frozen or fresh. We've had great luck with frozen, they seem to cook to a softer (less rubbery) texture.
1 3/4 cups diced seeded plum tomatoes (about 8 large)
18 uncooked large shrimp, peeled and deveined
500g pasta, e.g. rotini or "scoobi do" if you can find these (we used Italpasta brand)
1 cup chopped green onions
grated parmesan or other hard cheese, to taste
Instructions
Melt butter in heavy large pot over high heat. Add sausage, garlic, mushrooms and peppers and cook until brown, about seven minutes.
Stir in Cajun seasoning. Add mussels and tomatoes. Cover pot and cook until mussels open, about six minutes (discard any mussels that do not open).
Using tongs, transfer mussels to a large bowl. Add shrimp and calamari to cooking liquid. Cover and cook until opaque in center, about three minutes. Return mussels to pot. Season with salt and pepper.
Meanwhile, cook the pasta in a large pot of boiling salted water until tender but still firm to the bite, stirring occasionally. Drain well. Transfer pasta to large bowl. Stir the seafood sauce into the pasta and plate. Garnish with green onions, grated parmesan, and serve.