MsK_in_TO (Ms_Kitty)
Kaide Sushi Bar, Vancouver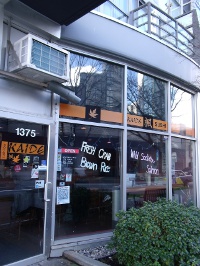 Kaide restaurant
I recently returned to my old stomping grounds of Vancouver, BC, a city with a plethora of Japanese restaurants, which popped up everywhere in the late 90's. My intention is to weed out the good from the bad, the authentic compared to the fast food versions from the non-Japanese (meaning sushi chefs who didn't learn the traditional way in Japan). My favorite spot happens to be Kaide Sushi Bar and the owner and head sushi chef, Tom C. happens to be Chinese.
Tom relocated to Nagoya (tucked between Tokyo and Osaka). At the time Nagoya didn't have many foreigners visiting and seem less snobby than the larger cities. Traditionally, all sushi chefs, even if they have trained for many years, still have to do the same grueling work- cleaning, prepping, and washing dishes. Tom made up those years of work himself and learned to make beautiful, fresh morsels of sushi.
As I step into Kaide, Tom doesn't miss a beat. "Hello Miss Kitty," he says, and I grab a seat up at the bar. The Catch of the Day bulletin board is placed by the front, unfortunately: it turns out to be sad to not pay attention the board because Japanese snapper was available and I had a taste many moons ago.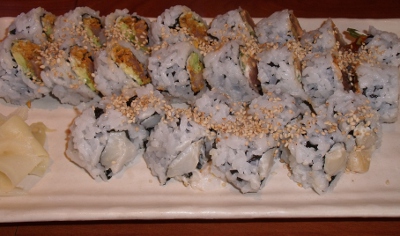 Top row: Big Bang Roll, Spicy Tuna; Bottom row: Special Chop
My few favorite is Spicy Tuna Don(a homemade spicy sauce toppled on tuna over rice with julienne slices of carrots and cucumbers and generous slices of avocados), Diablo Roll (spicy tuna with cucumber), Special Chop Roll (slippery smooth-just-like-clitoris scallops with mayo and tobiko) and Big Bang Roll (tuna, sliced lemon, asparagus and crunch). This is not the place to get teriyaki nor deep fried gyozas. Brown rice is an option for substitution. Those with shellfish allergies will not have to fret as he doesn't cross contaminate his knives.
Tom's culinary art and his personable skills always make me return to eat at Kaide Sushi Bar. Now living in a city far away, I often dream about eating there and how I took advantage of it when I used to live walking distance away. A special place that is on my "must visit". If you go, tell Tom I sent you down and sit up at the bar for me!
Kaide Sushi Bar
1375 Richards (and Pacific)