MsK_in_TO (Ms_Kitty)
Review: Aphrodisiac Curry at Kingston 11, North Vancouver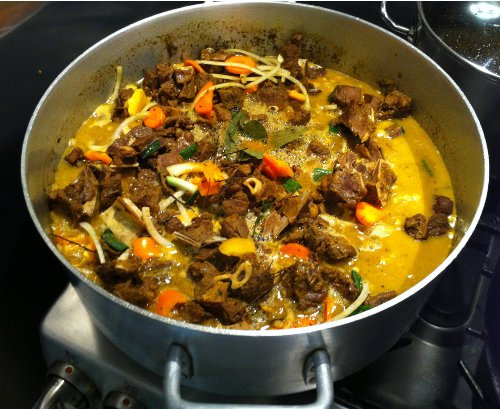 During a recent trip to Vancouver, I stayed at the home of some friends in North Vancouver while they were having a romp at Hedonism II in Jamaica. Coincidentally, a well-known Jamaican eatery was nearby (who would have thought North Vancouver had ethnic food), called Kingston 11. Might as well eat Jamaican if I couldn't go to Jamaica myself!
It was a bit of a challenge to find since they recently moved locations and had their sign placed in the window (the awning was in progress). Inside, the restaurant was clean, painted, and an area was set aside for live performances (apparently one of Bob Marley's sons was in town and ate there), and of course, the smell of Jamaican curries and jerk spices filled my little nose. We were greeted by friendly staff and the owner/head chef Prince was busy cooking in the kitchen.
We were seated with menus –the price point was incredibly low for small plate, large plate, or the combo (your choice of two meats- from jerk chicken/pork, curry chicken/goat, stew chicken, oxtail, red snapper, ackee and salt fish – and yes, vegetarian special is the alternative option). What I found amazing was that he didn't specify on his menu that the meat served was organic, even though it was.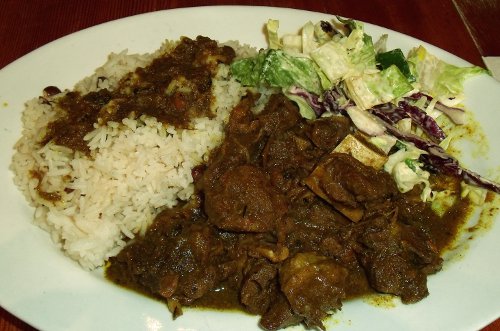 I chose a small goat curry. The spices were amazing, meat was fall-off-the bone clean, and the sauce was not thick and gelatinous but natural flavors of meat and complementary vegetables. The coleslaw had a light, creamy sauce and was not vinegary at all. The rice and peas dish was not spicy but the rice was cooked to perfection and fluffy (just like how my Grandma cooks it). I wish I had ordered the combo with oxtail, I had a nibble of my companion's and it was delicious!
Curry is known as one of the many aphrodisiac forbidden herbs. It increases heart rate and encourages perspiration and pheromones from one's body. No wonder I ate the whole plate and was left wanting more!
At the end of the meal I had the opportunity to do a brief interview with Prince....
Ms_K: Would you describe any of your cooking as having aphrodisiac features?
Prince: Yes all – because I put 100% of me in my cooking since I am thinking of 69.
Ms_K: (Meanwhile I am thinking a man after my heart– I mean Prince is thinking about his senses, his palate.) Hmmm... Good! I always think a man in the kitchen is such a turn on!
Prince: Cooking is like love making! It's an art... the more you put in, the better it makes you feel in the end!
Ms_K: *drools, wipes saliva with a bib*
My conclusion: the next time you need some pre-love/pre-sex food in Vancouver, Kingston11 is a must try place for "foreplay of the foreplay" with your senses. I can't wait to have the combo next time!
PS. Since I raved about Prince's curry goat, he has dedicated this dish to me and sent me a picture of it all made with TLC in the pot!
1336 Lonsdale Ave (and 13th)