PleasurableThings (PT Eds.)
Easy Eggs Poseidon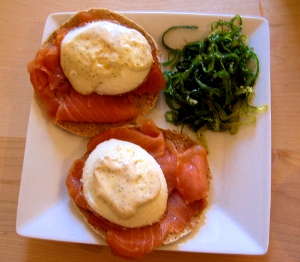 The name Eggs Neptune has already been taken, so we're coining Eggs Poseidon for this delicious, and healthy-ish brunch fare.
Serves two. We added a pre-prepared seaweed salad (available at Japanese grocery stores) as a side dish, alternatively you could use a mache or other lettuce-based salad.
Ingredients
2 tbsp mayo
2 tsp dijon mustard
1 tsp lemon juice
1 tsp dried dill
large pinch of sea salt
2 whole wheat english muffins or thin multigrain buns
8 strips smoked salmon
4 eggs
Directions
Poach the eggs. We like to use silicone poaching cups.
While eggs are cooking, whisk the first five ingredients together for the sauce.
Toast the bread. Place two strips of salmon (or whatever amount seems right to you) on either side.
Place one poached egg on either side, on top of the salmon.
Spoon sauce over the eggs, garnish with dill sprigs if you like.