MsK_in_TO (Ms_Kitty)
Brassica Love: a Stir-fry Recipe for Two
Some people go through this cycle: eat carefully when they are single, get into a relationship and stop eating healthily (and maybe stop working out as well), and get "comfortable". I would say that I eat relatively healthy living as a bachelor and eating at my pet's* place as well (he has a massive kitchen). Hopefully, when one is involved in a relationship, one will not pick up bad eating habits, but be able to inspire each other by eating and cooking health food together.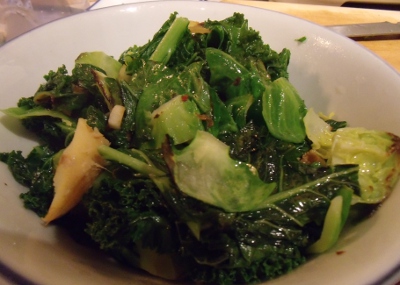 I love eating kale and he loves eating brussels sprouts and both of us love eating them stir-fried. Our discoveries were made by cooking at each other's houses – he ate kale at my house and loved it! He wanted to know more about kale's healthy properties and how I prepared it. I ate brussels sprouts at his house in his version of a stir-fry. That was my first time eating brussels sprouts other the odd occasion that I have them at Christmas and Thanksgiving. Not that I dislike them, I just didn't think they tasted that interesting when steamed or boiled. When brussel sprouts are cut into quarters and stir-fried, their natural sweetness comes out.
Last week, I made dinner at my house and surprised pet by having kale and brussels sprouts in my stir-fry together. Now my typical way of eating kale is supplemented by eating these two super-foods both from the brassica family together. Both have amazing properties that contains sulforaphane (chemicals said to have anticancer activity), and a phenomenal list of vitamins and other health benefits. Not only do we both get to eat our favorite vegetables together, we eat this with happiness, smiles, and longevity in life.
Ingredients
2 cloves of garlic, minced
2 slices of ginger, minced
8 Brussel Sprouts (cut the end root and cut into quarters)
1 bunch of kale (chop the leaves and omit stem)
Red chilli pepper flakes
Salt and pepper to taste
Sprinkle of gluten-free tamari sauce and sesame oil
Directions
Put the garlic, ginger, and brussel sprouts in a pan, cook for three minutes. Add in the kale and seasonings and cook for a further two minutes, stirring frequently.

*PSssssssssssssst...if you are wondering who pet is, it's a nickname used in the BDSM context.