PleasurableThings (PT Eds.)
Mustard-Mint-Lime Chicken with Light Tomato Sauce
Adapted from a
Food&Drink article
, this is lovely on a spring or summer evening, possibly as a weekday recipe.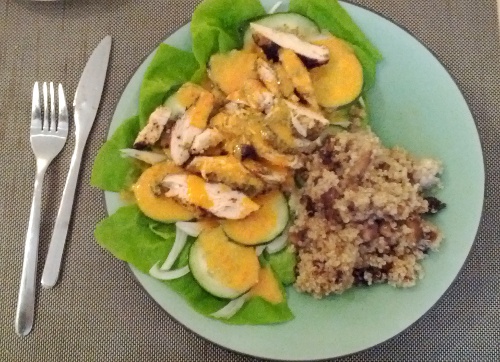 ⅓ cup roughly chopped lime, with skin on (about one large lime)
¼ cup mustard - we used mostly grainy mustard, with a bit of dijon
1 cup mint leaves, bits of stem included
2 large cloves garlic, peeled
1 tbsp soy sauce
¼ cup vegetable oil
Salt and freshly ground pepper
4 boneless skinless chicken breasts

Tomato Sauce
½ cup chopped tomato
¼ cup lemon juice
1 tsp sugar
½ cup olive oil

Salad
1 head Boston lettuce
1Vidalia onions thinly sliced
1 English cucumber, thinly sliced
¼ cup slivered mint
1. Place lime, mustard, mint, garlic, soy sauce and oil in a food processor and process until slightly chunky. Season well with salt and pepper. Place chicken in a large bowl and toss with marinade. Cover and let marinate for 30 minutes at room temperature or refrigerate for up to 24 hours.

2. Place tomato, lemon juice, sugar and oil in a food processor or mini-chop. Process until smooth. Season with salt and pepper to taste.

3. Preheat grill to medium.

4. Remove chicken from marinade and season with salt and pepper. Place on grill, close lid and grill for 5 minutes, then turn chicken over and grill another 8 to 10 minutes or until juices run clear.You can baste the chicken with the leftover marinade, just be sure it cooks on the chicken for at least 5 minutes.
5. Prepare serving dishes by lining them with Boston lettuce. Scatter onions, cucumber and ¼ cup (60 mL) mint over lettuce. Pour over half of tomato sauce.

6. Place chicken on a board and slice into thick slices. Add on top of the salad and sprinkle everything with remaining dressing and the slivered mint.
We also included a side dish of quinoa with roast chestnuts. For this, cook the quinoa as per package directions (2 parts water to 1 part quinoa), and also add in:
-3/4 cup pre-roasted chesnuts (we used pre-packaged)
-1/2 cup dried wild mushrooms, re-hydrated
- 1 tbsp Worcestershire sauce
- 1 tbsp soy sauce
- salt and pepper
Simmer on low for 15 minutes, fluff and serve.