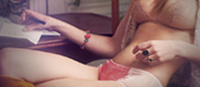 Pornographic Delights
Reviews and commentary on porn clips, websites and films.


posted on 2012-04-21 17:59
In their seventh year, Good For Her's Feminist Porn Awards celebrate the work of artists who make some groundbreaking and damn sexy films. They also welcome in a wide audience of progressive-minded sex lovers to related seminars, film screenings and parties.
Read more...


posted on 2011-12-19 17:27
A group of women-led, erotic websites has been blossoming in Montreal. Working under a strong belief that pornography can and should be beautiful, the sites' producers are making photos, videos, and web text using a particularly engaging, artful aesthetic. Their work includes both women and men in a variety of situations, but with a focus on female agency and pleasure.
Read more...